AGM brings new leadership & opportunities as Maurice Serico steps into role of RQI Indigenous Co-Chair 
This year's AGM has seen Kabi Kabi (Gubbi Gubbi) man and Balaangala Community Group Co-Chair Maurice Serico elected to the role of RQI Indigenous Co-Chair, following former Co-Chair Aunty Heather Castledine's decision to step aside for health reasons.
Those at the AGM thanked Aunty Heather for her involvement with RQI, particularly in her long-term role as Indigenous Co-Chair.
Non-Indigenous Co-Chair Peter Jackson wished Aunty Heather well in her recovery and said he looked forward to her taking up a position with the management committee again in the future, once her health improved.
Maurice Serico said he was pleased to take up his new leadership position at RQI, during a time when reconciliation in Queensland continued to face significant challenges.
"RQI is operating within a severely constrained funding environment and this means we have to come up with more innovative, cost-neutral ways to engage Queenslanders in conversations about reconciliation," Maurice said.
"But the night is darkest before the dawn, as the saying goes, and there are some exciting developments in the pipeline," he said.
"We recently employed Renai Mouton as the Recognise project manager, a decision I am sure will also advance RQI and better position it as a peak body for local reconciliation groups in Queensland," he said.
"As the RQI management committee develops, I am confident our capacity to support regional areas will be greatly enhanced.
"We also have a new website on the way, that utilises a wider range of media to improve the way we communicate with RQI members and the public," he said.
Communications subcommittee chairperson Simon Brooks gave a brief presentation on the main features of the new website at the AGM and advised that it should be live within the coming month.
Renai Mouton also spoke at the AGM, providing an overview of her work on the Recognise campaign and contributed to discussions around RQI's operational plan.
"It's quite clear there's not a lot of money to do a lot of things," Renai said.
"I would like to support the organisation in its future endeavors including in areas such as organisational structure, employees, programs and the capability for corporate sponsorship," she said.
Renai discussed her prior experience at the NSW Reconciliation Council, acknowledging that it received State Government funding (unlike RQI).
She said growth opportunities for the NSW Rec Council also came through its corporate sponsorship and from the programs it runs.
Among the proposed strategies for RQI is a schools reconciliation challenge, based on a program already operating successfully in NSW.
RQI is also looking at cultural awareness training, brokered through the Centre for Cultural Competence Australia, and an improved membership benefits program.
"The aim is that during, and after, a three period RQI will be completely financially self-sustaining," Renai said.
Guest Speaker Helena Goulash
AGM guest speaker was Helena Goulash, a Kabi Kabi woman with a long career in Indigenous affairs spanning over 35 years.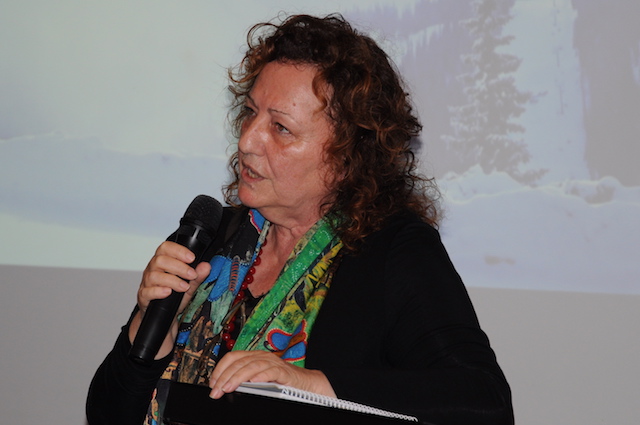 Helena spoke about her life growing up in regional Queensland, before her family settled in the Northern Rivers/Tweed area of NSW.
She told how she had been born in Townsville in 1955, as one of seven children, to an Aboriginal mother who had grown up in Cherbourg and her non-Indigenous father.
"Mum maintained her connections while living down on the Tweed by bringing us up to Brisbane regularly, and we spent lots of time growing up with very strong Aboriginal matriarchs," Helena said.
"Mum felt a lot of sadness tied to Cherbourg, so she didn't take us back, but more of the connecting was on trips to Brisbane," she said.
Helena studied a Bachelor of Arts at three separate universities in the early 1970s and said she wanted to be part of a movement for change.
"It was when I was at university that I really decided to make the commitment to using my talents that I'd been given towards making changes for our own mob in Indigenous affairs," she said.
Helena explained that she moved to Canberra to work in government but eventually decided to complete a Diploma of Education, which eventually led her back to Townsville where she had secured a role in community worker development.
"That was the beginning of really, really, thinking a lot more about community development and about land rights and it was the inspiration for me to start thinking about one day, working on our own country and getting our own rights back in terms of land and cultural heritage," Helena said.
As her career progressed, Helena worked across the State and became Assistant Director at the Commonwealth Department of Education as head of Aboriginal and Torres Strait Islander education in Queensland.
"They were challenging, demanding years, but also extremely rich. It was all about my belief that working within government at high levels was an important way of effecting change," she said.
After travelling to Europe and finding herself in Czechoslovakia during the fall of communism, she moved back to country and got more involved in the Kabi Kabi native title process.
"Our current situation is that we have an authorised claim. We've had it for a few years now [and] we're getting closer to determination," Helena said.
"The vision that we have for the future, in terms of Kabi Kabi country…is that we want a much stronger presence, a much stronger recognition of Kabi Kabi peoples, a much stronger acknowledgement of our old people and our connection to country," she said.
In working to achieve this, Helena spoke about her involvement with a group of artists to design and install a major piece of contemporary art in the main entrance at the Sunshine Coast University Hospital that depicts Kabi Kabi stories and cultural heritage.
Peter Jackson thanked Helena for her comprehensive and informative talk, before moving to the AGM's business agenda and to the election of the new RQI management committee.