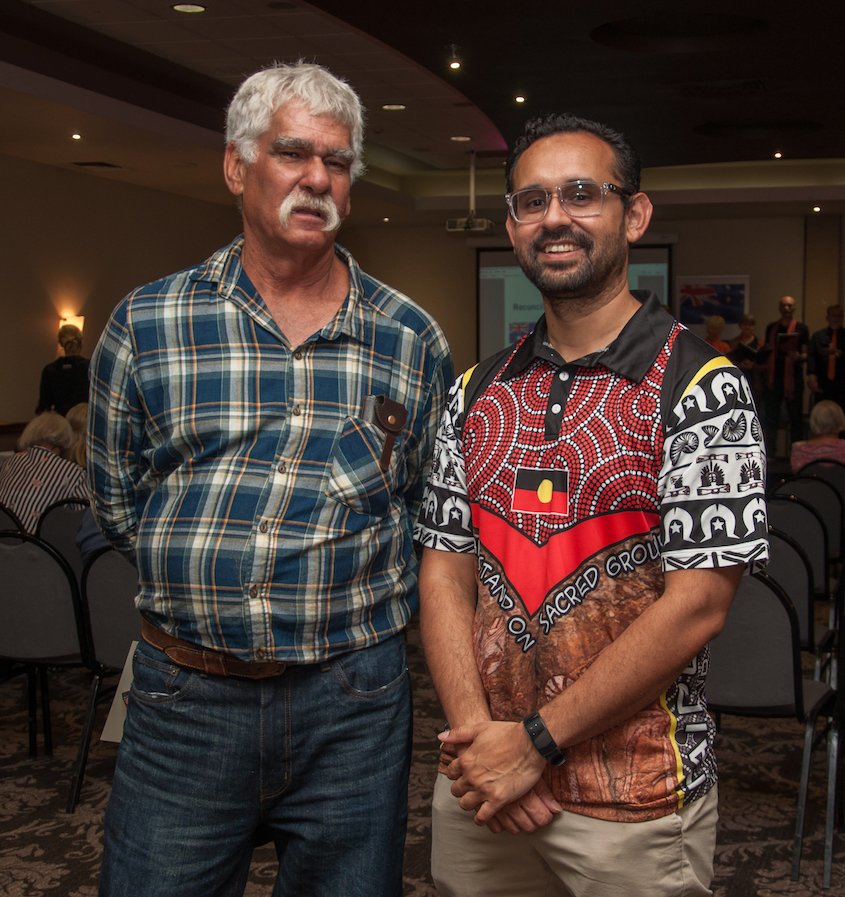 Ancient lore merged into modern law when Kabi Kabi Elder Uncle Eugene Bargo and young lawyer turned comedian Leon Filewood took to the speaker's podium on Australia Day 2019.
Uncle Eugene and Leon were guest speakers for what has become one of the most successful events of the year for Reconciliation Queensland Incorporated (RQI).
Large turnout for Australia Day 2019
More than 100 RQI members and supporters turned out for the free, catered event, and to browse the half a dozen display tables with Indigenous Australian artwork, jewellery and books for sale.
A call for donated stationery items drew a generous response, raising a swathe of pencils, felt pens, erasers and exercise books to be sent to remote Queensland schools for distribution.
Turrbal Traditional Custodian Uncle Joe Kirk offered a rousing Welcome to Country to get everyone warmed up and the Songlines Choir rounded out the afternoon, performing several songs from their latest CD.
A life of learning
Inviting the audience to join him on his life's "journey", Uncle Eugene Bargo revealed that he had grown up in North Queensland and that his great grandmother, on his father's side, was among "the last Aboriginal people taken from that area with the gun".
"We know that they shot a few of those people. We got over it. And as I take you on this journey, you will see how reconciliation overlapped repeatedly in my life," Uncle Eugene said.
His family were taken to the Cherbourg Aboriginal Mission in 1904 and 1906, and his mother, who had been born there, was taken at two year's of age to Palm Island Mission, until the outbreak of WWII when she was moved again.
"She was one of those throw away kids. Taken by good thinking, Christian people, to give her a better life," he said.
Hailing from a family of cane cutters and stockmen, Uncle Eugene found himself in this line of work by the age of thirteen or fourteen. He explained that the Education Department had taken him out of school because it was felt that Aboriginal children could not be educated.
But with the arrival of mechanised harvesters, his own career in cane cutting was cut short. So, to make up for lost income, "I took a job on a fishing boat, crabbing and fishing in my spare time," Uncle Eugene explained.
"The wage of the day was no less than $10 per week. What me and my uncles would do was catch mud crabs, and sell 'em for 25 per cent extra, or 50 cents extra a mud crab," he said.
He soon found out he could make five times more than the average white man selling mud crabs at hotels on pay night.
"And I thought, with us selling these mud crabs, we can make enough money to pay for our young needs: Movies, cigarettes, soft drink, hamburgers."
It was one of many stories Uncle Eugene recounted at Arana Leagues Club for RQI's Australia Day 2019 event.
Moulding the man
Over the years he tried his hand working in the mines and later on the Queensland Government railroads, with his father, who was a contract fixer and yard builder.
"He hired Aboriginal men, old men. Some of those old men had been born in 1870, 1888, 1890," Uncle Eugene said.
"What I did do is, I spent five years with five traditional men…what they didn't know about life in the forest didn't need to be known," he said.
"But what they were ordered to do was sit down [and] taken notes from their white cattle station owners. They were rude. But because I was, well I would say I was pretty well educated, I thought I'm not going to take this, so I took in everything that I could from them old men.
"So just say, that man there, he taught me about sex. That man over there taught me about the weather. That man there taught me about, and this went on, not for a day, this went on for five years. No television, working on cattle stations, yard building, fencing, through these places for the Queensland railways. That finished in 1974."
After this experience he moved to Brisbane, but lamented that at this time, in the years following the '67 Referendum, young Aboriginal men seemed to have no interest in learning about men's business because there were new opportunities: football, movies and cars, that held more appeal.
Learning from lore men
Some years later, Uncle Eugene found himself being drawn back to Aboriginal culture and he began visiting places like Stradbroke Island, Woorabinda Mission and many of the other missions around Queensland.
"I sat down there for many, many times and talked to Elders. I was fortunate enough to talk to some of these Elders, now they're long gone now, passed a long time ago," he said.
"I had the pleasure of sitting with senior lore men…men that we all followed and once looked up to as traditional men. As the years rolled on, I would [be invited by] senior lore men from the Kimberley, from Broome, from Derby, from Noonkanbah, senior lore men from Nhulunbuy, Anindilyakwa from Groote Eylandt and Borroloola, from Cape York and Lockhart River. Senior men from Mutitjulu, Hermannsburg. I sat with those men.
"Not just sat with them. I sat with them for weeks on end, days on end. Talk business, talk business, and it was a case of 'what do we know?' and how can we train our youth to become Aboriginal men.
"At that time I saw that [happening to] our Aboriginal boys, I was working at a youth detention centre in Queensland, [there was] three or four of them. I was a cultural adviser to that place.
"My job was I had to take them hunting, make spears, make food, and I did work there. I worked for a long time and what we did find was, of our boys, our jails were being filled up with our Aboriginal children, whether they be girls or boys," Uncle Eugene said.
Realising a dream
Uncle Eugene recalled an occasion on Boxing Day 1983, when a man came to his house and said that he knew where there was some cheap land for sale.
"It was a returned serviceman's land. He asked if we were interested," Uncle Eugene began.
Knowing that his father was an ex-serviceman and that his grandfather had fought for Australia, he approached the authorities to lodge an application for a returned serviceman's block of land.
"I walked into that place with my dad. I went there as his interpreter sort of thing, because I knew a bit about that since I was twelve," Uncle Eugene said.
"He was crying when he walked out. He said, no they won't give us any land, because they never gave Aboriginal people land as returned servicemen. That broke my grandmother and…my father's heart."
But Uncle Eugene never lost sight of his dream to one day own land and after a decade as a social worker, he returned to school to study a diploma of business and a certificate IV in floristry.
"And all this was coming to big head in what I was going to do," Uncle Eugene said, referring to the successful business he eventually created selling the Australian native wildflowers he grows on his property.
"I was just growing flowers because I wanted to. This place that we bought had been severely logged and turned into a cow paddock," but nevertheless he decided it should be transformed into a rainforest.
"And when I did go forth and plant a rainforest people said how crazy is that. This is long before global warming came. Before what we saw what was going to happen with nature, as of today. I became a conservationist of the day," he said.
The story of how Uncle Eugene helped popularise Australian native flowers was later turned into an SBS short film for the documentary series Surviving.
Leon Filewood finds his own calling
Young lawyer turned comedian Leon Filewood is an Aboriginal and Torres Strait Islander man who says it was on the stage he found a platform to leverage the important conversations that as Australians, we all need to have.
Following Uncle Eugene's yarn, Leon delivered an entertaining reconciliation-themed standup routine at RQI's Australia Day 2019 event, displaying the form that saw him win the 2018 Melbourne International Comedy Festival's 'Deadly Funny' national competition.
Leon completed his Bachelor of Laws and Graduate Diploma of Legal Practice at Queensland University of Technology before going on to private practice as a solicitor in a range of legal practice areas including: criminal, family, commercial litigation, corporate and personal insolvency and immigration law.
Feeling unfulfilled with private practice, he stepped away to work as in-house council and divisional manager for a not for profit organisation. There he gained experience in corporate governance and front-line management in delivering community services such as, health, training, employment and housing. Leon's current role is as a community development coordinator.
Leon's heritage is from the Torres Strait is from the Ugar Umle (Stephen Island people) in the east and Italgal/Moalgal from Moa Island in the west of the Torres Strait. His Aboriginal ancestry comes from the Koko Mini, Kuku Yalanji and Girramay people of Far North Queensland.