RQI vision
An equitable and informed Queensland, which recognises a shared past and respects Aboriginal peoples and Torres Strait Islander peoples as the first Australians.
---
LATEST NEWS AND EVENTS

National Reconciliation Week 2016
National Reconciliation Week is 27 May to 3 June 2016
As Australians, we are all here, woven into this country.
As part of our reconciliation journey, there are truths to tell, stories to celebrate, and relationships to grow.
Reconciliation is at the heart of our nations' future.
Join us on our nation's reconciliation journey.
To find out more or to find a #NRW2016 event in your area, visit the Reconciliation Australia website.
---

Balaangala Sorry Day Ceremony – May 29
You are invited to join the Balaangala Community Group for a Sorry Day ceremony from 4pm on May 29 in the Balaangala Garden, 98 Yoorala Street, The Gap.
Join us in commemorating and remembering the struggle for justice faced by members of the Stolen Generations and their families and communities.
Music, shared stories, ceremonies and friends come together to share this important occasion. All welcome, bookings via: balaangalathegap@gmail.com or respond to the event on the Balaangala Facebook page.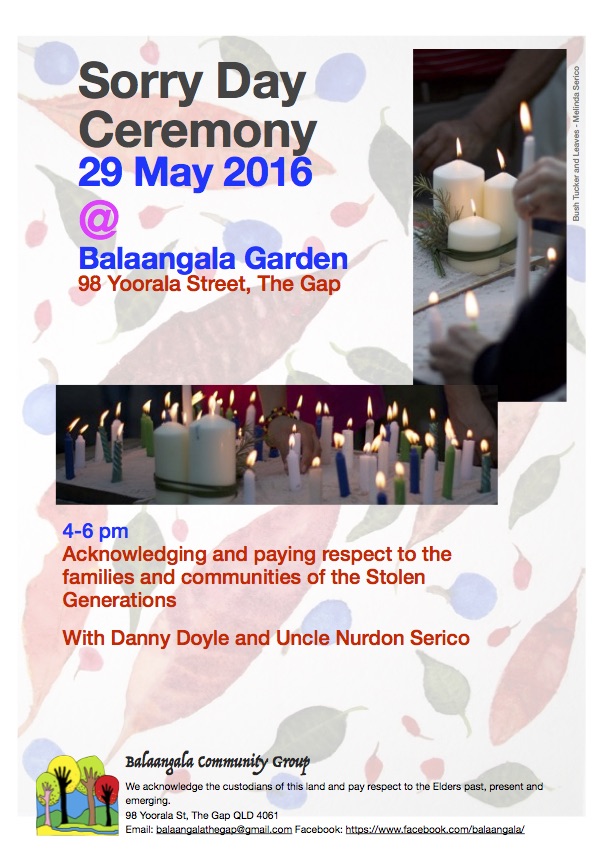 ---

Reading for Reconciliation dates 2016
The Reading for Reconciliation Group has announced their diary dates and book titles for 2016. The group meets in the Community Room at the Brisbane City Council George Street Library at from 10am till 12.30pm.
NB: The volunteer coordinator who will lead discussions is identified (in brackets).
7 February: Not Just Black and White by Lesley and Tammy Williams (Sarah Knox)

20 March: Aboriginal campsites of greater Brisbane by Dr Ray Kerkhove (Author coming to lead this discussion)

15 May: On Track by John Blay (Desley)

26 June: Warrior by Libby Connors (Sarah)

7 August: Frontier Justice by Tony Roberts (Gay)

18 September: Murri on a Mission by Albert Holt (Bob)

30 October: Cockatoo by Roy McIvor (Rosalie)

11 December: The Secret War by Jonathan Richards (Peta Anne)
More information: www.readingforreconciliation.org.au
NOTE: This post was updated on 6 Feb 2016
---

Honouring our forgotten heroes
Co-Patron of the Aboriginal and Torres Strait Islander Dedicated Memorial Committee Queensland, Dame Quentin Bryce, attended the unveiling of the four shortlisted memorial design models at a ceremony on December 2nd at Brisbane's City Hall.
That same evening, Dame Quentin spoke to Indigistream about the finalists and the importance of having a dedicated memorial to recognise fallen Aboriginal and Torres Strait Islander service men and women in all world war conflicts.
The video of that interview can be viewed on the ATSIDMCQ website or on YouTube.
Our Co-Chairs Peter Jackson and Uncle 'Blinky' Bill Buchanan also attended the ceremony, where they got chatting to ATSIDMCQ Co-Chair, Warrant Officer (retired) Lorraine Hatton. 
Images of the design finalists' models can be viewed on the Brisbane Times website.
The models will be on display at the Museum of Brisbane during December 2015 and January 2016.
The winning design will be selected in early 2016 following consultation with several stakeholders, including community elders, Brisbane City Council and the Historical Society.
It is estimated that $1 million will need to be raised to build the memorial, with space already allocated in Brisbane's ANZAC Square.
Griffith University has been working for around four years to get this project off the ground. If you wish to show your support, you can donate to the ATSIDMCQ fund here.
---

Constitutional recognition website launched in Brisbane
Reconciliation Queensland Co-Chair Uncle Bill Buchanan and respected academic and community elder Aunty Mary Graham officially launched our new Recognise Australia's First Peoples website on Thursday, October 22, at a small function in Musgrave Park, West End.
The website is the product of a collaboration between Reconciliation Queensland and ANTaR Queensland and aims to help people access the diversity of views and information regarding the movement for constitutional recognition of Australia's first peoples. 
Visit the site: www.recogniseaustraliasfirstpeoples.com
Cathy Van Extel from ABC Radio National's breakfast program, later interviewed Uncle Bill, Aunty Mary and Tim Callanan, a member of the constitutional advisory group, about the reasons behind the new website. To listen, click on the image below.
New website shines spotlight issues surrounding Indigenous constitutional recognition (RN Breakfast)
---

Co-Chairs report from 2015 AGM
26th September, 2015
Dear Reconciliation Queensland Members
RQI is very fortunate in having the ongoing active support of our distinguished Co- Patrons The Honourable Dame Quentin Bryce AD CVO and Dr Jackie Huggins AM, and on behalf of the committee I wish to thank them for their commitment to Reconciliation over the past year.
I would like to thank the members of RQI's Executive including the two Aboriginal Co-Chairs, Uncle Bill Buchanan and Aunty Heather Castledine who shared this role at different times over the past year. Thank you Linda Harnett our dedicated Secretary and Mick Bruhwiller our diligent Treasurer. I would also like to thank all other members of the RQI Management Committee for their commitment, support and efforts over the past 12 months.
The Year at a Glance
The past year has once again been a positive one for RQI as demonstrated by:
ongoing positive relationships with the Australian Government, the Queensland Government and many Regional Councils throughout Queensland.
RQI has retained a close day to day working relationship with Reconciliation Australia and other members of the Australian Reconciliation Network and with local Reconciliation support groups. Auntie Heather Castledine and RQI's Cairns based committee member Brendan Leishman represented RQI at the October 2014 Round Table meeting which took place in Adelaide.
the RQI organisation has continued to maintained a sound financial position
In early 2015 members of the Reconciliation Queensland committee participated in developing a strategic plan under the guidance of committee member Neil Whiteman. The Plan is based on a framework which aligns the Vision, medium term Objectives and Strategies with the short term Actions. A set of Key Performance Indicators (KPIs) relating to each stakeholder group gauge the progress of RQI's strategic plan.
The Vision and the Objectives are driven by the aspirations and needs of all of the stakeholder groups as identified by the Committee of RQI. Consequently, the framework promotes sustainability and calls for the implementation of a balanced set of Strategies and Actions. This plan will continue to undergo further development.
All activities undertaken by the Committee have been directed by the RQI Strategic Plan and the committee has once again remained flexible enough to take advantage of new opportunities over the past 12 months which fall within the Strategic Plan.
Over the past 12 months RQI has been successful in applying for several grants including a Community Services Grant from the Logan City Council, National Reconciliation Week project funding and funding through the RECOGNISE Campaign to implementing Phase 1 of a project to establish the Queensland Constitutional Recognition Coalition.
The RQI membership continues to evolve with new Organisation and Corporate Members and Individual Members. For each and every one of RQI's members, Reconciliation carries unique meaning and interpretations.
Reconciliation Queensland supported and in many cases committee members carried out funded and non-funded activities and spoke at events for the purpose of raising awareness and community support for Reconciliation these include in the:
South East Queensland Region:
Noonga Reconciliation Group Inc. events
The Balaangala Community Reconciliation Group Inc. events
Sunshine Coast Reconciliation Group events
Australia Day Movie event at Broncos
Queensland Launch of National Reconciliation Week at Broncos
Boundary Street to Boundary Street Twilight Walk
ANZAC Square activities in Brisbane
Logan City Reconciliation Youth Summit
Songs of Peace in Logan City
Pacifica Festival in Logan,
Yarnin with Our Mob with Logan District Elders
Zest for Life festival at Kingston Butterfactory in Logan
Rwandan Festival,
Logan Central Library Session on "Whats Recognition"
Culture in the Park with Aboriginal & Torres Strait Islanders youth in Logan city,
Churches together Reconciliation Service in Logan,
NAIDOC Week events and information stall
Attendance at the Reconciliation Australia and State Bodies Forums
Continuing liaison with Local Reconciliation Groups including Reading For Reconciliation
Bridge to Reconciliation Board Game sessions are still running
Reconciliation display stands at significant events
Attendance at the Reconciliation Australia and State Bodies Forums
Wide Bay Burnett Region:
Cherbourg Ration Shed Reconciliation Fun Run from Murgon to Cherbourg
Coral Coast Region:
Mackay/Whitsunday Regional National Reconciliation Week Event
Sunshine Coast Region:
Sunshine Coast Reconciliation Walk
North Queensland Region:
Townsville 2015 Indigenous Catholic Council Reconciliation Dinner
Far North Queensland Region:
Mossman National Reconciliation Week and NAIDOC Week Celebrations
Reconciliation and Recognise information and material kits were also distributed to all attendees at these events.
The Reconciliation Queensland committee would like to thank and acknowledge our various partners who have supported the work of RQI over the past 12 months including – The Anti-Discrimination Commission ,Amnesty, ANTaR, Murri Watch, Brisbane City Council, Logan City Council, Logan District Elders, Balaangala Community Reconciliation Group., Noonga Reconciliation Group, Benarrawa Community Development Association, Sunshine Coast Reconciliation Group, the National Sorry Day Committee, QPAC and ACPA.
The RQI committee would like to publicly acknowledge and give a special thanks to our team of volunteers including Rachel Rolfe, our highly skilled designer and developer of promotional materials and the RQI web site developer.
Thanks also to Helen Carrick for her ongoing commitment to coordinating Reading for Reconciliation – which has now been operating for more than ten years.
The past year has been a successful one in terms of networking and corresponding with regional areas across Queensland and we particularly thank, Rosalie Raciti and other members of the committee for their tireless efforts in promoting Reconciliation throughout the State
And finally, thanks to the loyal RQI membership, who remain faithful to the process of Reconciliation in Queensland.
The task of sustaining our National diversity and moving forward beyond the divide remains one of our primary objectives. I ask you all to continue with us on that journey…
Yours in Reconciliation
Heather Castledine
Co-Chairperson (Indigenous), and
Peter Jackson
Co-Chairperson (Non-Indigenous)
---

Want to find a Journey to Recognition event near you?
Join Recognise as Australia embarks on a 'Journey to Recognition' – an epic relay across our country building momentum to recognise Aboriginal and Torres Strait Islander peoples in our Constitution.
To find a Journey to Recognition event near you, visit the Recognise website: http://www.recognise.org.au/thejourney
Or to view a calendar of upcoming Journey to Recognition events, visit http://www.recognise.org.au/thejourney/events/
---

Under development
Our new website is being continually developed and some content is still to come. For urgent queries or information requests, please contact us via the Contact us email form on this site.
---